Nshry. its an odd name, for a cafe that makes dishes that are, well, just a little bit odd, but in a very
gooooood way!
Its not often that I can say that I've had a truly exceptional meal, but at Nsry, I certainly did!
As the name, and the paper crane logo suggests, this cafe is a wee bit foreign in inspiration, most likely Asian.
Why do I think this? Mexican standards like chilli bean tacos end up deconstructed in a bowl, with rice inserted into the mix,  with the Korean favourite of a random egg cracked on top, Japanese panko crumbles feature prominently, as does wasabi, sesame mayo and all the other delicious things that make asian food truly delicious and great. Theres that, and the fact that the owner, Michael Nham (pictured below) comes from a Vietmanese and Taiwanese cultural background. Next time i go back, ill have to ask what inspiration is truly behind the name.
At first glance, the menu contains all sorts of typical standard cafe fare… but then you look closely, and you realise that its anything but a normal offering. its inspired, its different, and above all, its tasty. Tasty enough to write about with passion, that's for certain.
We chose the Taco rice bowl, and the "Umami" burger. They were expensive lunch options, at over $20, but hey, we had just gotten engaged, and the location at the foot of the pier looking over the beach, with the Spirit of Tasmania docked in the distance was a nice atmosphere.
A nice touch was that in the outdoor dining area, because it was a cold day, woolen blankets were supplied to wrap oneself in (or snuggle up in).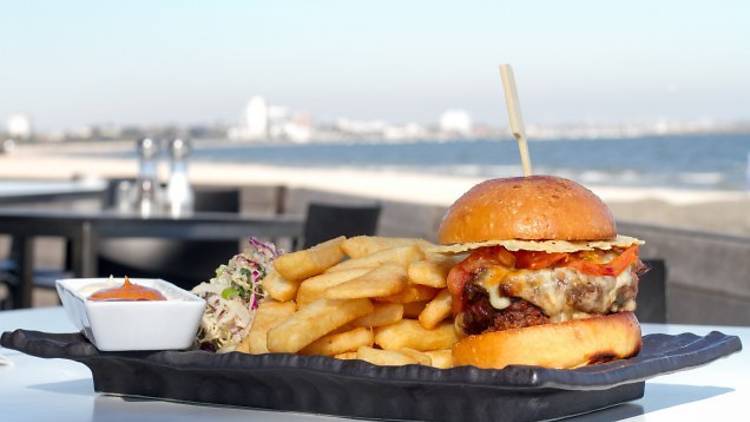 Anyway, back to the food. The Umami burger, which consisted of a beautiful marriage in a BIG fat intensely satisfying pattie consisted of a unique and well thought out mix of both Wagu and Angus beef, married with slow roasted tomato and onion jam came with a little selection of very, very exceptional sides- a sesame coleslaw with micropickles, and very crispy, very golden fat chips, and three dipping sauces, traditional sweet tomato, garlic aoli, and chilli mayo.
Anyhow, little did I know at the time, but this burger won a prize as burger of the the year, 2011, and little has changed about it ever since. You don't mess with perfection, clearly.
Thanks to the following blog posts that I borrowed photos from:
http://theburgeradventure.com/2012/02/the-burger-of-the-year-2011/
https://www.timeout.com/melbourne/restaurants/nshry
http://www.bambinoweekend.com/nshry/
129A Beaconsfield Parade
Albert Park, Victoria
03 9682 1077
Tuesday – Sunday
8am to 4pm