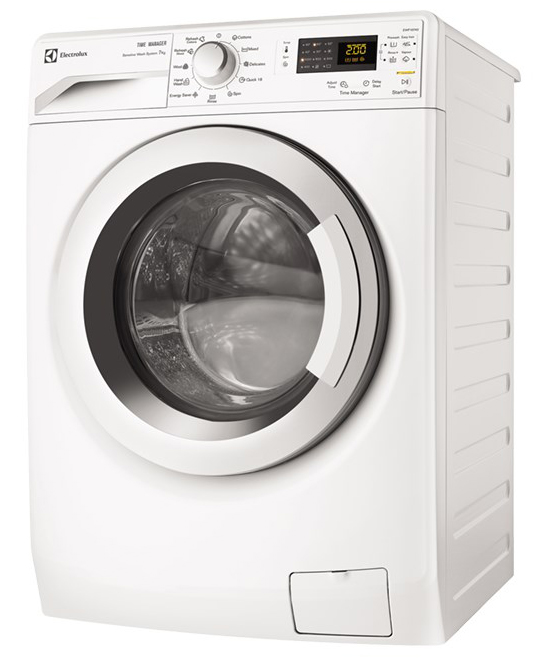 On the weekend, we got sick and tired of going to the Laundry king Laundromat every weekend, and went out to buy ourselves a brand spanking new washing machine.
We ended up settling on the Electrolux 8.5KG front loader EWF12853 from Harvey Norman. (it's a good looking thing, isn't it!)
It seemed a pretty decent price, at under $800, which was what I paid for the last washer over 7 years ago, and it had some nifty features such as quick steam cleaning modes, called "Vapor Cycle" which seemed pretty innovative and useful. Typically, I've shied away from front loaders because they tend to take forever to deliver a single washload… but this one has pretty quick specifications, which I'll write about in the near future.
This month, at Harvey Norman, (and other major retailers, I presume) the Electrolux Laundry products came
with a free bonus of a piece of luggage from Samsonite- a B'lite 3 55cm Spinner.
Apparently, you can live the Electrolux life with one of these. Either way, its FREE. Might as well claim it!
Doesn't seem too hard, does it? Till the website asked you about the serial number… which is probably stamped on the BACK of the 75KG Electrolux front loading washing machine you probably just had installed in a hutch or nook in what is usually the most cramped room in the house!!
There is an easy way to find the serial number of your Electrolux laundry product though, without moving it or any backbreaking work!
Just keep reading on how to easily take the steps you need to make to successfully claim your free bonus Samsonite luggage!
Link to website to claim or redeem free samsonite luggage from Electrolux after buying a laundry product in 2017
A) After Clicking on the link, the site will ask for some basic details, then ask you to verify your email address.
There is a trick to easily finding the serial number on an Electrolux laundry item.. or most electrical appliances really.
b) Step 2 will require more information, such as what model you bought, where you got it, and upload a copy of
the receipt.
As mentioned before, the serial number of your eligible electrolux laundry product  can be a bit more difficult to figure out than it initially seems- you wont find it in your user guide, or on your receipt usually.
Instructions on where to locate or find the Serial number on an Electrolux EWF12853 front loading washer:
Look at the packaging and plastic wrapping the Electrolux washer came in- you should find a sticker on the wrapping somewhere!
Read through the maze of barcodes and meaningless picking and stock numbers all over the sticker.
On mine, the serial number is located directly under the BIG product number in the middle
In the photo I have taken to the right, the serial number to our EWF12853 is underneath the blue pen that is obscuring the number on the picking/packing sticker
You should be able to use this exact effortless technique on ALL the Participating Products- the following Electrolux Laundry models:
Front load washers EWF12753, EWF12853, EWF14933, EWF14013, EWF14023, EWF1074, EWF1083, EWF10831, EWF1087, EWF1090, EWF1282, EWF12821, EWF12822, EWF12832, EWF14012, EWF1470, EWF14742, EWF14811, EWF14822, EWF14912, EWF14922, EWF1495
Front load washer dryers EWW12753, EWW14013, EWW1273, EWW12832, EWW14912
Condenser Dryers EDC2075GDW, EDC2086GDW, EDH3786GDW, EDC2086PDW, EDC47130W, EDH3284PDW, EDI97170W, EDP2074PDW
C) Once you have jumped though all the hoops, you will get a confirmation email and receipt.
You can track your claim via this link, provided you successfully received a password in your email from electrolux
Of course, with all these promos, there are terms and conditions- be careful to read them- especially the one about the limited time you have to cough up a valid serial number if you don't provide it straight away!
Promotion terms and conditions- Electrolux Samsonite luggage offer
Hope you have some luck in getting the bonus luggage to turn up! post us a few comments if you have any questions!