This toy water crystal gun is yet again the sort that shoots both the soft EVA suction cap NERF style bullets (that are pretty lame) AND the soft water bullets as well.
Usually this means that the barrel length, and thus effective range for a water crystal bullet is compromised.
What does look exciting is the advertised 45-round top loading magazine, and, hopefully, a better, more reliable and effective loading mechanism that hopefully doesn't mince the bullets like what happened in my previous review.
The seller of this one is one ebay again "hotdeals-cn", and the cost was a whopping $9.99
Unlike some of the cheaper sorts of water crystal gun on Australian Ebay that only include the gun, poorly packaged into a thin plastic mailing bag, and that is it, this set also throws in a few hundred rounds of ammunition and some soft nerfy bullets that are designed to match the gun also, as well as the high capacity top loading bottle magazine.
In appearance, it's more Space-gun than a plastic attempt at a realistic looking replica pistol or gun, like the last product I reviewed. The chunky star-trek or doctor who bad-guy styling, with gaudy painted arrows on the side, just in case you forget which is the business end of the gun makes it look pretty tacky and ridiculous.. but hey, at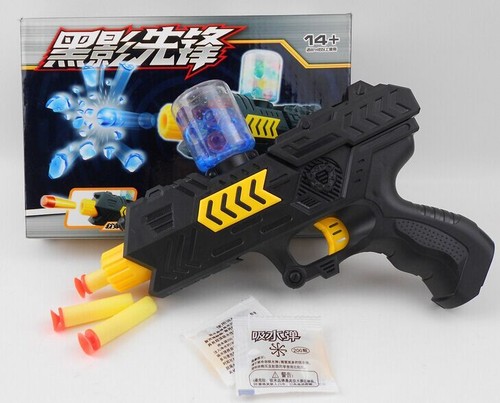 least theres a low chance of a local genius holding up the servo or maccas with this particular item.
The first one I ordered actually got confiscated or returned by Hong Kong customs for being too gunny looking in the x-ray, and I received a refund. Fingers crossed that this one has not suffered the same fate coming from china. (Though there is the possibility that the seller was just lying, and had just run out)
The Chinese sellers are slowly learning to include some half coherent english descriptions, and this listing has benefited from that.
Operation review:
At some point I'll do a video of this thing working, (test-michael style) and throw it up on you-tube.



Verified effective mechanism:
Quite simply, no. the magazine doesn't really work too well. It's serial a gel-bullet muncher.
Verified effective range:
NERF style foam-dart: around 15 metres. The darts fly straight and true enough that the suction cup sticks to the window.
Water crystal bullets- when working, 5 to ten metre range.
Estimate of Rounds per minute (RPM) achievable.
When working, maybe 30RPM. of, well, mess of gello bullets.
The breach loading of the gun for the foam bullets is pretty archaic. More civil war, or pirate musket then space gun technology. 10RPM max.
The NERF-style foam bullets for these things seem pretty non-standard too- one generally does not fit other models.
Current Identified selling links on ebay for basically the same product: (april-16)




https://rover.ebay.com/rover/1/705-53470-19255-0/1?icep_id=114&ipn=icep&toolid=20004&campid=5338022359&mpre=http%3A%2F%2Fwww.ebay.com.au%2Fitm%2F321914717704%3F_trksid%3Dp2060353.m1438.l2649%26ssPageName%3DSTRK%253AMEBIDX%253AIT
https://rover.ebay.com/rover/1/705-53470-19255-0/1?icep_id=114&ipn=icep&toolid=20004&campid=5338022359&mpre=http%3A%2F%2Fwww.ebay.com.au%2Fitm%2F2-in-1-Water-Crystal-Paintball-Soft-Bullet-Gun-Toy-Pistol-Toy-CS-Game-Toy%2F351508622646%3F_trksid%3Dp2047675.c100005.m1851%26_trkparms%3Daid%253D222007%2526algo%253DSIC.MBE%2526ao%253D1%2526asc%253D20140106155344%2526meid%253Ddcc5d839d60143d28bd9c2e710137910%2526pid%253D100005%2526rk%253D1%2526rkt%253D6%2526mehot%253Dpp%2526sd%253D321914717704